Hi Amy! I added the white rabbit at the bottom of the page. I looked and I don't have Ginny anymore.
I have a beige bear that came about the same time as Ginny and has an understuffed belly, huggable for a mohair bear... also have a white bear called Pansy: I can photo if you would like to see...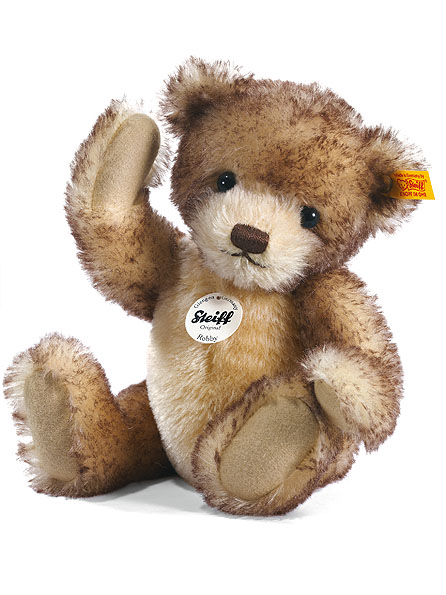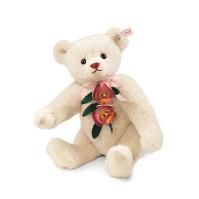 1934 Replica, about 12 inches in size, jointed. Its sorta scruffy and looks very vintage. I did get a closeup of one shoulder, there are areas of roughness, not sure if it's part of the design or not. They shaded the claw threads, it looks pretty cool. (I think, anyway, not everybody likes the old look) Retail $268 minus the 30% would be 187.60
Forrest is pretty cool! He's about 12" in size, the fur is kind of russet-y & they shaded around the nose. The vest looks and feels like woven wool. The scarf/tie is cotton-y. In the stock photos of this piece, they had the tie covering the whole chest opening, but in actuality it leans off to one side. It's pretty tightly tucked in. It could probably be adjusted but I didn't try. I'm showing both pieces, the first set is #530 and the second is #529. Forrest is $260. With the 30% off, he'd be $182.
Here's one I spotted, kinda hiding out... she's "Claire", LE of 1500 pieces, #202. (A 2010 piece), she's about 12" in size. She does have a wobble joint on the head so you can tip her one way or the other, though she seems to naturally go the way the pic shows. The fur is beige and scruffy, the dress is vintage-y. Just a pretty combo. Her retail is $200, with the 30% off she'd be $140.
Next is a 16" yellow tag guy, he's really scruffy and brassy color. He has scruffed and airbrushed paws, which I tried to get in a pic. He's 16", a big guy. Felt paw pads. Regular $260, with the 30% off he'd be $182.
Vincent White Rabbit: Here is a pretty white rabbit with lovely blue coat made from felt and embellished with stitching. He has a really cool little pocket watch stitched to one hand. He's about 7 inches in size. Regular $198, with the 30% off, he'd be $138.60