Steiff
Limited Edition
"Molly Replica 1925"
Can you believe that Teddy bears were once not king at Steiff? It´s true - for a period in the 1920´s, the dog replaced the Teddy bear in popularity at the company. One of the most notable dogs was Molly - with more than a half million pieces produced between 1925 and 1932. Molly remained in the line through the beginning of World War II and was even popular into the 1950´s when production resumed after the war. Through the years, Molly has been manufactured in all manner of colours and sizes - as well as a handbag, pin cushion, hand puppet, and, musical piece, and pendant. New for fall, we are pleased to bring back Molly as a 1925 replica. Sitting 14 centimeters tall, Molly is made from a fine, curly, long pile mohair in vintage white with brown tipping. Her nose, mouth, and claws are elaborately hand embroidered. She features big, brown handmade glass eyes. Relive Steiff´s glorious "dog years" with the Molly 1925 replica..
5.5 inches, EAN 403101, $198.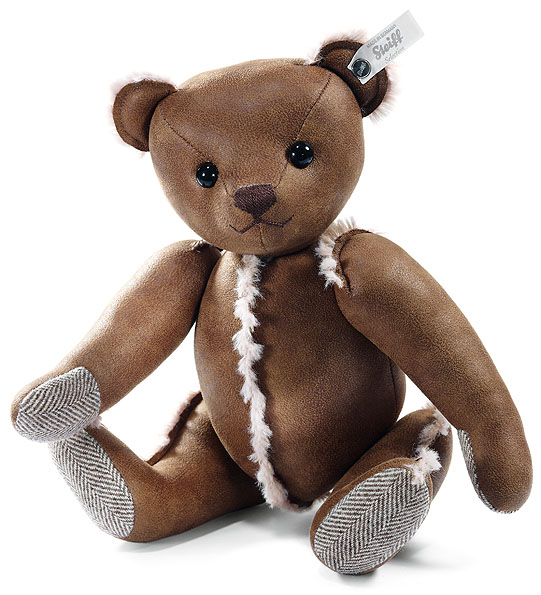 Steiff Limited Edition
"Selection" Bear
Fleece-lined faux leather gives this teddy its exceptional appeal. His brown-toned skin is accented by strips of fleece that have been allowed to show through the seams. We've never made another teddy quite like this before! With tweed woolen paw pads.
Standing 32 cm tall and five-way jointed, this piece bears the silver button and white tag of the Steiff Selection series, our designer collection of special pieces which reflect current trends in fashion and decorating.
12 inches, EAN 025884, $180.
We have one available. (#440/2000)
As shown below: