Thank you for particpating
in our raffle
to benefit Beads of Courage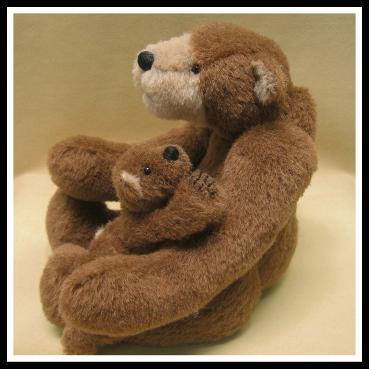 "Please!" by Sandy Czaja
This amazing bear pair is a lovely piece from the lovely and talented Sandy Czaja of Notchlok Bears.
Made from a beautiful alpaca fabric, Please! captures the spirit and affection of mother to child. A perfect piece to use in our raffle to support Beads of Courage.
This raffle has ended. Thank you to all who participated!
About Beads of Courage
I'm here to tell you this is an amazing organization!
This truly one of a kind program provides lovely glass beads to kids who are facing difficult health issues... they're given a bead for every treatment, surgery and other hurdle they must endure. The beads are usually kept in long strands and they become an important symbol of survival, endurance and courage. For families who have lost their children, the beads remain a poignant memory of their child's journey. A final glass butterfly bead is sent from Beads of Courage to complete the strand.
Beads of Courage provides over 100,000,000 beads a year! (Yes, that's a HUNDRED MILLION) Glass beads, specialty beads, and artist beads... beautiful beads. Some beads are carried by marathoners, endurance climbers, people in all sorts of unique challenges and are then sent with hand written notes of encouragement.
It's just truly incredible. I hope you'll go visit their website (
http://www.beadsofcourage.org
) to read about the work they do on behalf of kids. I hope you'll be as inspired as much as I have been.