R John Wright
Alice ~ Commemorative 150 year Edition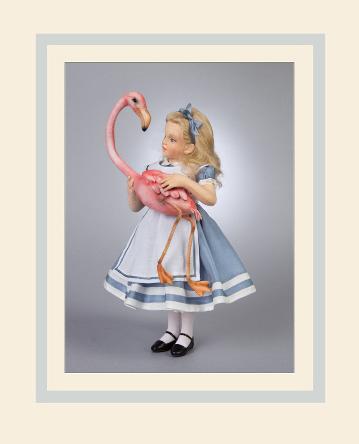 Celebrating 150 years of Lewis Carroll's classic and faithfully based on the original Tenniel images, Alice in Wonderland stands approximately 10" tall and is made entirely of the finest all-wool felt with ball & socket jointing. Her compelling portrait face has delicately hand painted features framed by her mohair wig held in place with a matching silk bow.
Lewis Carroll's beloved heroine is costumed in the trademark Victorian dress tailored of the finest all-silk tissue taffeta with inset silk stripes. A dainty cotton batiste pinafore fastens at the back with mother-of-pearl buttons. Lace trimmed undergarments, cotton stockings, and hand-cobbled leather slippers complete her delightful period ensemble. Alice comes holding a detailed all-felt flamingo with glass eyes used as a mallet in the Queen's Croquet Game!
This special Sesquicentennial Edition is limited to 250 pieces worldwide. Alice in Wonderland - Commemorative Edition will come enclosed in a deluxe presentation box with the accompanying signed and numbered certificate of authenticity and the forms for owner registration.
~~~~~~~~~~~~~~~~~~~~~~~~~~~~~~~~~
$875
We do offer a flexible payment plan if desired.