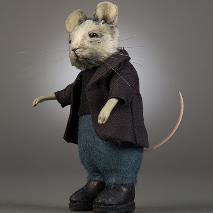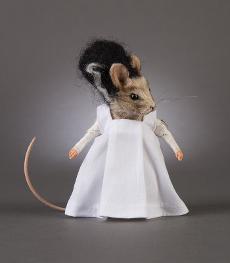 "Frankenstein" & "Bride of Frankenstein"
We are pleased to present "Frankenstein" and the "Bride of Frankenstein" - the first pieces in a series of MONSTER MICE - celebrating the classic monsters of Filmland! Each is made of fine mohair plush with hand embroidered features, resin hands and feet, glass eyes, inset whiskers, and a leather tail. Measuring approximately 3 inches tall, each mouse is jointed at the neck and shoulders for added pose-ability.
Frankenstein wears the classic outfit of trousers, a collarless shirt, and a black topcoat. His hand-cobbled, sturdy leather boots enable him to stand unaided. Frankenstein's deathly pallor is accented by his lowered eyelids - giving him a touch of melancholy. Tiny metal staples in his forehead and bolts in his neck provide the perfect finishing touches.
The Bride of Frankenstein is outfitted in the stark modernist gown tailored of crisp white poplin. Her arms are wrapped with silk bandages held together with tiny safety pins. Her iconic hairstyle is fashioned of fine merino wool hand-rooted into her scalp. The Bride has a built-in metal stand for effortless display. She awaits her groom but we already know it won't go well!
Sold in matching numbered sets.
Sorry, we are sold out of this piece.