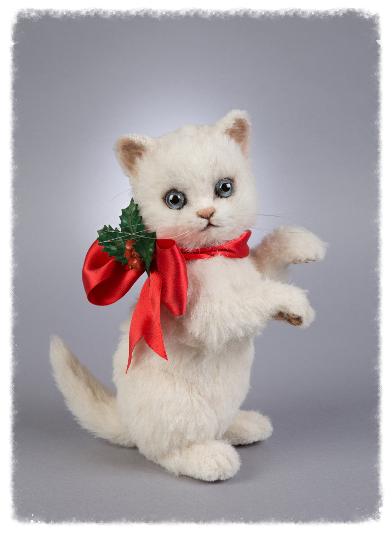 We are pleased to present "Holly" - the 2016 Christmas Kitten!
Following in the footsteps of "Snowball" and "Jingles", Holly is the third issue in the "Christmas Kittens" series. Holly, is constructed of the finest white alpaca plush with felt details. She is jointed at the shoulders and neck with a ball&socket joint for expressive posing. Holly measures approximately 10" tall. Her beautiful sculptural face and ears include felt-backed German glass pupil eyes, a molded felt nose, and inserted whiskers. Longer fur inside her kitten ears, detailed felt paw pads, and stuffing weighted with pellets, add to Holly's realistic appeal! Around her neck is a luxurious silk ribbon embellished with a sprig of holly handcrafted out of felt.
Holly is produced in a limited edition of only 250 pieces worldwide. Each kitten will come beautifully boxed with a signed and numbered certificate of authenticity and the forms for owner registration.
$565