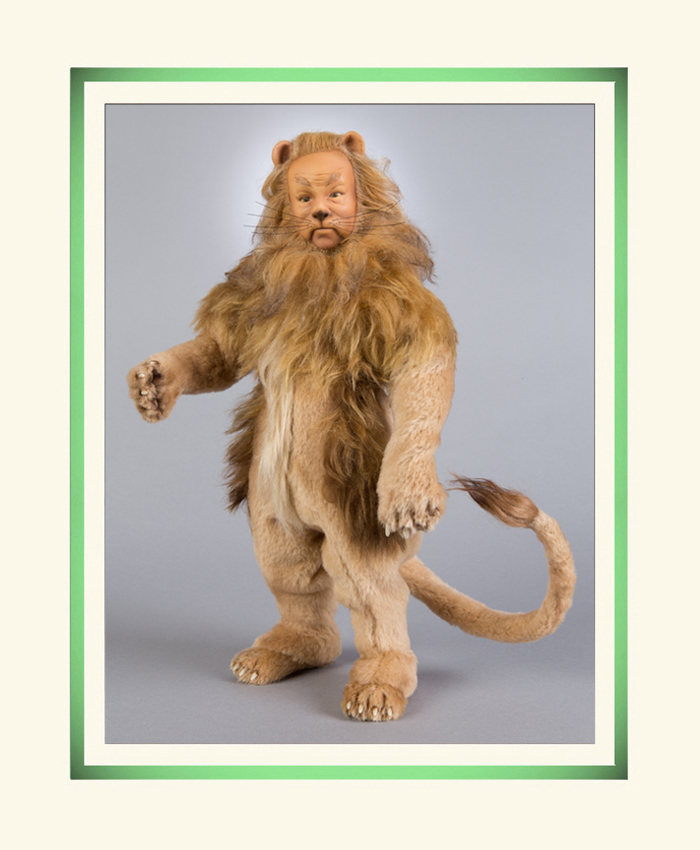 R John Wright Cowardly Lion
Exquisite!
Photos are the actual pieces being offered here: #198 of 250.
From the R John Wright description: "We are pleased to announce the addition of the "Cowardly Lion™" to our exciting series based on the classic motion picture masterpiece The Wizard of Oz™
Faithfully based on the beloved character immortalized by Bert Lahr in the 1939 film, the Cowardly Lion has been brought to life for the first time in the medium of molded felt.
Standing 17 inches tall, the RJW Cowardly Lion is the most faithful recreation of this character ever made. Beneath his costume, he is an all-felt doll fully jointed at the neck, shoulders, elbows, and hips with the RJW ball & socket jointing system with an internal wood mechanism. He has a realistic molded felt torso and limbs and sculptural felt hands with individually sewn fingers! The character head has been finely sculpted in a true likeness and skillfully molded out of felt with hand painted features and inset whiskers.
The Cowardly Lion's iconic costume has been precisely recreated in one-quarter scale. The suit is fashioned of fine custom-dyed and shaded mohair plush in varying lengths. The paws and feet of his costume include sculptural leather paw pads and inset resin claws. His wig is meticulously hand-made of the finest mohair. Extensively researched for the utmost authenticity, no detail been spared to bring this beloved film character vividly to life as never before.
The Cowardly Lion will be produced at the R. John Wright studio workshop in Bennington, Vermont, in a numbered limited edition of only 250 pieces worldwide. The 'RJW' brass button will be affixed to each as a lasting mark of identification and a signed and numbered certificate of authenticity will be included inside the deluxe Wizard of Oz presentation box.
18" of exquisite interpretation, made in true R John Wright artistry, of molded felt with meticulous detailing, produced in a limited edition of 250."
$1750
We have #199/250 available for immediate shipping: