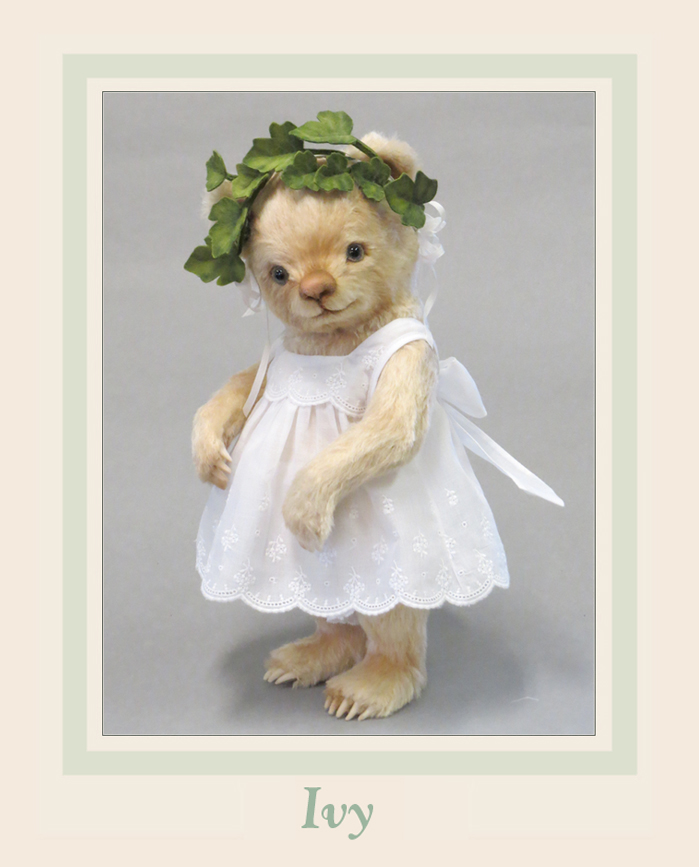 This darling little tyke named "Ivy" is the final girl in the "Toddler Bears" series of cubs dressed in vintage-style children's clothing.
Made entirely of the finest custom-made blonde mohair plush with artistic airbrushed shading, Ivy measures 10 1/2 inches tall. She is fully jointed and features a molded felt nose, inset blue glass pupil eyes, and detailed felt paw pads with inserted resin claws.
Ivy wears a lovely vintage-style white summer dress made of 100% cotton Swiss embroidered fabric with an embroidered scalloped hem and bodice. The dress ties in the back at the waist and features authentic mother-of-pearl buttons. Under her dress Ivy wears a pair of matching panties with Swiss embroidered trim. As a final perfect touch: a headpiece of felt ivy leaves delicately hand-colored and detailed. The headband is anchored on either side with dainty bows of pure white silk.
Limited edition of 150.
Sold, thanks!