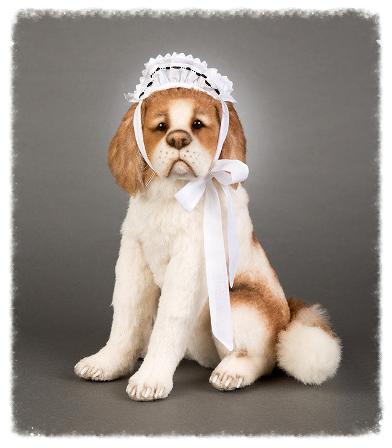 We are pleased to present "Nana"
"Nana" is the nursemaid of Wendy, John, and Michael Darling, hired by their parents to look after their children. A lovable Saint Bernard, Nana was played in the original stage production - and the 1924 silent film adaptation - by an actor in a dog suit. Nana is the first character we encounter in the Peter Pan story and she is also the premiere piece in the R. John Wright Peter Pan series.
Extensively researched for the utmost in authenticity, Nana is made of the finest wool and alpaca plush and sits approximately 9 1/2 inches tall. Realistically detailed, she has a molded face with delicate airbrushed markings, glass pupil eyes, and inset whiskers. Her neck features a ball & socket joint for expressive posing. Nana's limbs include paw pads and individually-applied nails made of molded and treated felt. Atop her head she wears her dainty nurse's cap made of fine Swiss embroidered lace interwoven with black silk ribbon. No detail has been spared to bring this adorable literary character vividly to life!
Nana is produced in a numbered limited edition of just 250 pieces worldwide.
$695
Sorry, we are sold out of this piece.