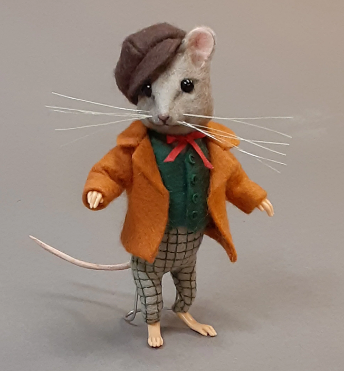 "Sebastian" mouse
New for 2023!
Our mischievous attic mouse is ready to travel to your attic.
Measuring just 3-1/2", our latest mouse friend has a new innovative body type. His head is ball jointed, arms jointed at shoulder and wired for more poseability. Plus he has legs! There is a wire stand that will keep him standing secure. His pattern stitched pants are integral to his body. The jacket is felt with a felt undervest with tiny buttons. His jaunty look is finished with a sporty felt cap. His horse hair whiskers are twitching and black glass eyes are gleaming with mischief waiting to visit your "attic."
This tiny gent is made completely at the R. John Wright workshop in Bennington, Vermont in a limited edition of 100 pieces worldwide. Each comes inside a deluxe presentation box with a signed and numbered certificate of authenticity and the forms for owner registration.
$450