R John Wright
Le Petit Prince and Fox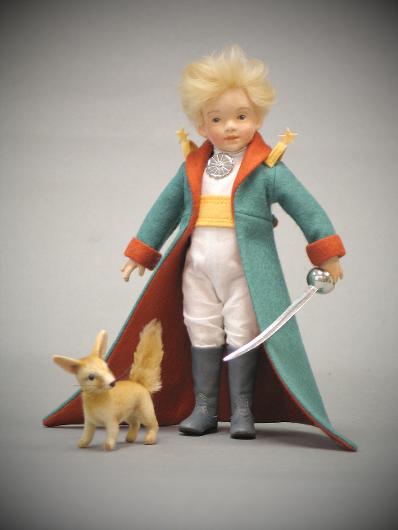 "Le Petit Prince™" - a delightful new cabinet-size rendition of the classic character by Antoine de Saint-Exupéry - has arrived!
The name of Saint-Exupéry endures because of a rather strange little book he wrote just before he died in 1944. Le Petit Prince (The Little Prince) has something of Hans Christian Andersen in it, something of Lewis Carroll, and even a bit of Paul Bunyan. It is often lyrical... sometimes profound... and completely unique. It is sometimes called 'a children's book for adults.' However it is classified, The Little Prince is a literary classic beloved by millions.
The Little Prince™ was originally produced by R. John Wright Dolls in 1983 as an exclusive edition for The Toy Shoppe. A second edition was introduced in the year 2000 to celebrate the hundredth anniversary of the author's birth. This version - titled 'Le Petit Prince™' - measures a diminutive 8 1/2 inches tall. Made of the finest all-wool felt, he is fully jointed with the RJW ball & socket system with internal wood mechanism. The molded felt torso and limbs are sculpturally defined and the tiny expressive hands have individually-sewn fingers. His molded felt face is delicately hand painted and the blonde wig is meticulously hand-knotted of the finest English mohair.
Le Petit Prince is outfitted in the iconic costume depicted in Saint-Exupéry's original illustrations of a belted jumpsuit and a flowing greatcoat tailored of custom-dyed all-wool felt. He wears a decorative pewter medallion at his throat and fine hand-cobbled leather boots. In one hand, our little prince holds his very own custom-made sword of the finest polished pewter. No effort has been spared to bring this famous character vividly to life in this enchanting miniature scale.
Produced in a limited edition of just 350 pieces worldwide, each Le Petit Prince will include a signed and numbered certificate of authenticity and the forms for owner registration.
The Fox
The story's essence is contained in the lines uttered by the Fox to the Little Prince: On ne voit bien qu'avec le cœur. L'essentiel est invisible pour les yeux. ("One sees clearly only with the heart. What is essential is invisible to the eye.")
We are pleased to offer this miniature version of the Fox to accompany your Little Prince. Standing a mere 2 1/2", the famed Desert Fox is made entirely of all-wool felt with delicate shading, embroidered features, glass eyes, and a bushy tail made of alpaca plush.
The Fox is made in a very small edition of just 250 pcs and comes in his own presentation box with a numbered certificate.

~~~~~~~~~~~~~~~~~~~~~~~~~~~~~~~~~
Sold out, thanks!