R John Wright Wizard of Oz Mice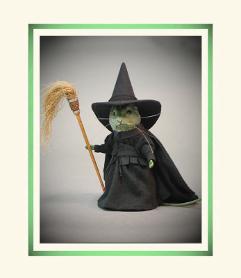 "The Wicked Witch"
From the R John Wright description: "We are pleased to present the "Wicked Witch™" - part of our exciting series of mice celebrating the 75th Anniversary of the classic 1939 motion picture The Wizard of Oz™.
Brought to life for the first time in the form of a mouse, Oz's fearsome "Wicked Witch of the West" - is made of custom-dyed mohair plush with embroidered features, resin hands and feet, glass eyes, inset whiskers, and a leather tail. Measuring just 3" tall (without the hat), a built-in metal stand provides effortless display.
The Wicked Witch comes authentically costumed in a Victorian-style black cotton dress with a laced waistcoat and a flowing cape fastened at her throat. A classic witch's hat with attached silk veil completes her trademark ensemble. In one hand, the Wicked Witch carries a detailed wood and straw miniature of the broom as seen in the film.
The Wicked Witch mouse is produced at the R. John Wright Dolls studio workshop in Bennington, Vermont, in a limited edition of only 200 pieces worldwide. Each comes enclosed in a deluxe Wizard of Oz presentation box with the accompanying signed and numbered certificate of authenticity and the forms for registration."
$450
We also offer a flexible payment plan. Contact us for details!
Thank you :)