Wizard of Oz Mice Complete Set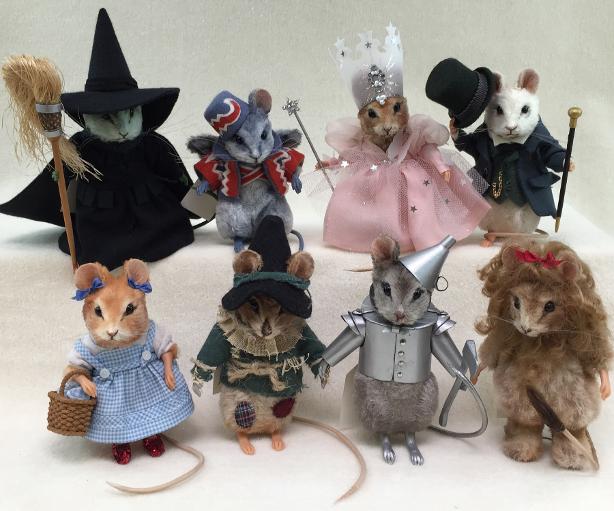 We are pleased to present the R John Wright "Wizard of Oz Mice", celebrating the 75th Anniversary of the classic 1939 motion picture.
Brought to life for the first time in the form of a mouse, Oz's beloved foursome are made of fine mohair plush with hand painted features, resin hands and feet, glass eyes, inset whiskers, and a leather tail. Measuring just 3" tall, each mouse has a built-in metal stand for effortless display. Each mouse is exquisitely costumed.
This special commemorative set is numbered from one to seventy five in honor of the 75th anniversary. The first four mice are specially boxed together with a certificate of authenticity identifying them as part of the low-numbered commemorative edition produced at the R. John Wright Dolls studio workshop in Bennington, Vermont, in a limited edition of only 75 sets worldwide.
Dorothy, Scarecrow, Tin Man and Lion are the four pieces that are boxed together and the other four pieces ~ two witches, flying monkey and wizard~ are boxed individually. All are numbered alike. (see photos of actual pieces below)

Sold out, thanks!
We offer a flexible payment plan for this item. Contact us for details!
Thank you :)