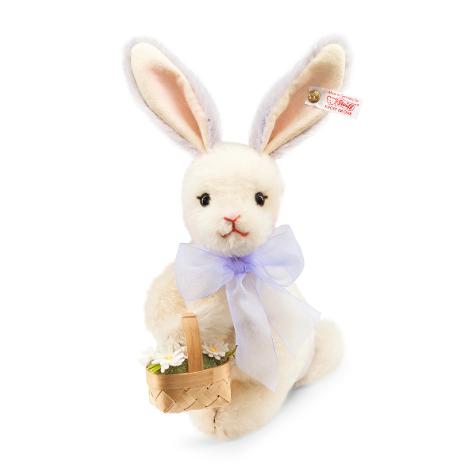 Steiff "Daisy" The Springtime Bunny
Simply adorable. That's how you describe our delightful Daisy when you cast your eyes upon her. Next in our ongoing series of pastel rabbits, she's as fresh as Springtime and so cute, you'll want to display her year-round. Daisy is sewn from white, pink and lavender - blue mohair. Her pert ears are lined with white wool felt and finished with a brush of pink painting, just like her nose. Around her neck, she wears a lavender organza bow. Best of all, she is carrying a special surprise. In her paws, she holds a basket of intricately handmade felt daisies- her namesake- as a gift just for you.
EAN 682766
About 8 inches in size, 1-way jointed (head). A limited Edition of 1500 pieces.
$198