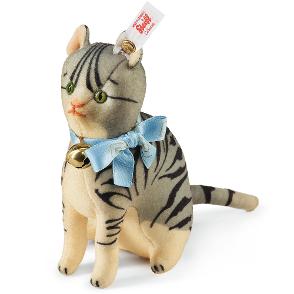 Steiff Velvet Tabby "Emilie"

We searched the famous Steiff archives in Giengen, Germany, for days before we found the vintage inspiration for our gorgeous new Tabby cat. With one look at the original, we knew we had found a piece that was ready to delight a new generation of Steiff enthusiasts.
Made of luxurious Trevira velvet, Tabby is delicately stenciled and painted by hand. Around her neck, she wears a baby blue silken ribbon accented with a shiny brass bell. Like coveted originals from early last century, the ribbon is foil stamped in gold with the word "Steiff."
Whether you´re a cat fancier or a long-time Steiff enthusiast, you´ll definitely want to add this special Tabby to your collection.
A 4 1/2" (11 cm) tabby made from velvet. Limited edition of 1500 pieces.

EAN 682902
Sold out, thank you!