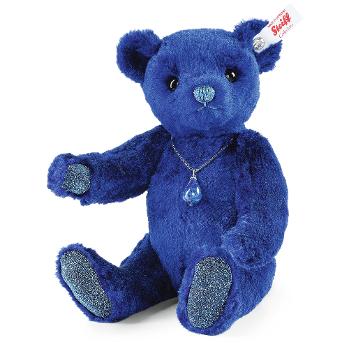 Steiff "Lapis Lazuli" Bear
In the Steiff gemstone series, amethyst, ruby and onyx are followed by lapis lazuli - a gorgeous Teddy bear coated in bright blue silk plush. As many as 7,000 years ago, the ancient Egyptians were familiar with lapis lazuli: its color was admired, its value huge. Much later - in ground form - it served as a pigment for valuable Madonna pictures and book painting. The lapis lazuli Teddy bear, which is limited to 2,000 pieces, looks on the world with an almost regal aura. He wears a crystal "Button in Ear" and his paw pads are decorated with SWAROVSKI ELEMENTS colored blue and silver. A drop-shaped pendant in imitation lapis lazuli on a silver-colored chain makes the picture complete: our lapis lazuli is a star!
Made from high quality silk plush in a lovely dark blue. Fully jointed. About 10 inches in size with crystal "button in ear".
Limited edition of 2,000 pieces worldwide.
EAN 034237

$298