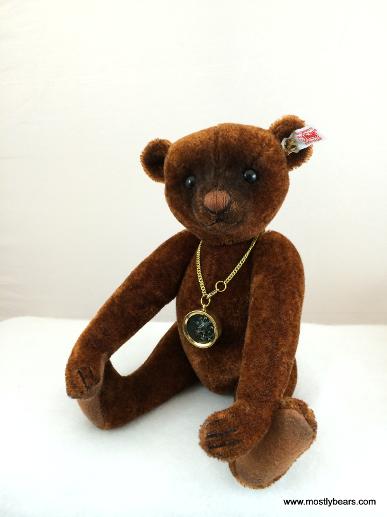 Steiff Limited Edition
"Nando"
You´ll never get lost in Paradise Jungle with Nando by your side. Around his neck, he wears a real operating compass, so you´ll always know which direction you´re headed. Nando is sewn from finest russet tipped batik mohair - a very unique fabric. He is a showcase of the airbrusher´s art, with painting around his nose, eyes, and ears. Nando´s nose is hand embroidered in chestnut floss framed by black thread. His claws and mouth are also black floss. He´s 5-way jointed and the successor of Dante and Monty. Stay on the right course with Nando and you´ll make the most of your time in Paradise Jungle.

13 inches, EAN 034978, $255.
Shown below: #1435/1500 actual photos.