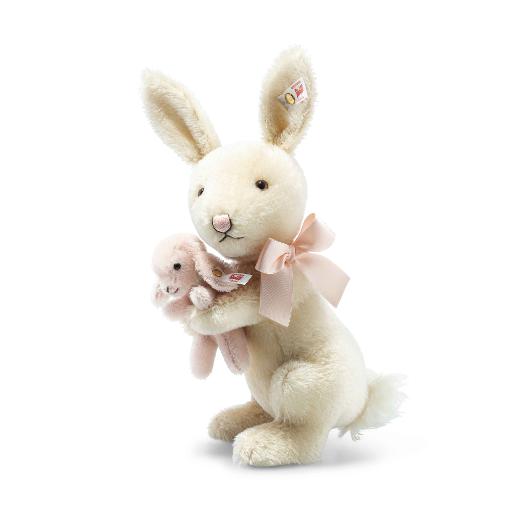 Steiff Springtime Rabbit
"Rosie Rabbit & Baby"
Celebrating its 15th consecutive year, Steiff North America's series of pastel coloured rabbits continues with our most magnificent edition yet. Meet Rosie Rabbit and Baby Bunny – the perfect pair to add to the series which began in 2006.
Rosie's design is based on a classic archival pattern from 1927, while her irresistible offspring is an all-new design. Like the vintage original on which she is based, the mother rabbit is crafted from creamy white mohair. Her head is jointed. Her miniature unjointed Baby Bunny is sewn from mohair in pastel pink. Both feature hand-stitched facial features and artistic airbrushed detailing; while Mommy rabbit sports a pale pink bow.
Whether you're a long-time collector or new to the world of Steiff, this very special limited edition is an ideal gift or the perfect decorative. In celebration of this long-running series, both pieces of this two-for-one set are marked with their own gold-plated "Button in Ear".
9 inches mother (not including ears) and 4 inch baby, EAN 657269 $245.