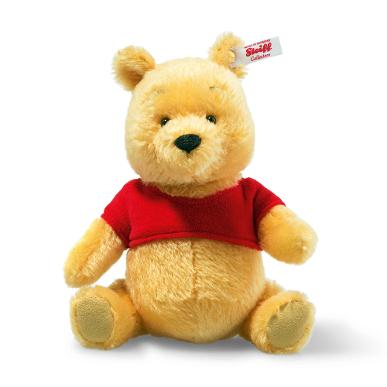 In the early 1960s, Walt Disney was able to acquire the rights to A.A. Milne's Winnie the Pooh character. Because Walt fondly recalled reading the Pooh stories to his daughters, he was pleased to bring the character into the Disney fold. Under his supervision, Pooh's design was "modernized" for his first screen appearance in "Winnie the Pooh and the Honey Tree", a 1966 theatrical short subject. Pooh's new "look" in this film would become the definitive version of the character for a new generation of fans – those born from the 1960s through today. The Steiff Disney Miniature Pooh Bear is made of blond mohair and five way jointed. He wears the trademark red shirt popularized in the Disney films and television programs. This "modern" interpretation of the character beloved by all – no Pooh, Steiff, or Disney collection is complete without it!
Made of finest blonde mohair, 5-way jointed, surface washable
Limited edition of 2,000 pieces with gold-plated "Button in Ear"
22 cm (8 1/2"), EAN 683411, © Disney
$175
Purchase via our secure shopping cart here: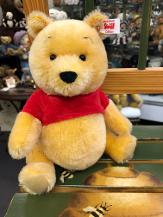 Photo of one of our in-stock pieces.