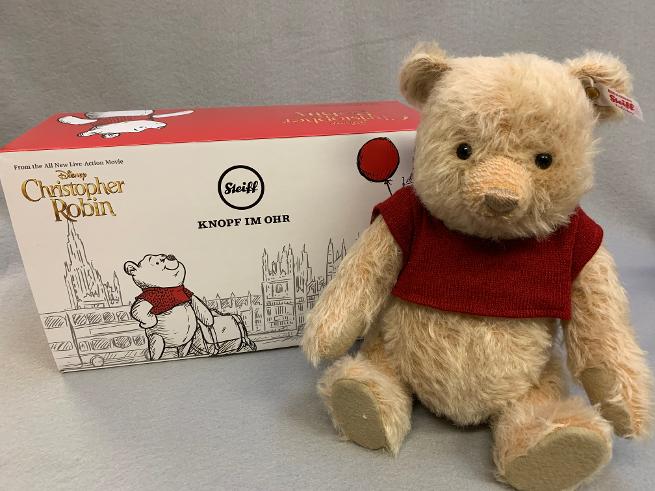 Disney Winnie the Pooh 2019
There's no doubt about it: Winnie the Pooh is perhaps the most popular Disney character ever brought to life by Steiff. He's been available alone and in sets, as well as in a tremendous variety of poses and sizes. In every incarnation, he's always a favorite.
But there's never been a version of this "Silly Old Bear" like this one. Designed to match his appearance in the recent critically acclaimed film, Pooh has been given a brand new look for his starring role on the big screen. Our "Christopher Robin" Winnie is unmistakably the character that has captivated generations, but he has a softer, pre-loved look with his distressed honey-colored mohair and antique beige facial stitching.
He's the familiar friend you love, in an updated version you don't yet own — making him an absolute must for your Pooh and Disney collection. He's handcrafted in Germany by the toy industry's most talented artisans from the world's finest materials.
Like all Steiff creations, he wears the famous "Button in Ear" trademark, symbol of highest quality. From the company that invented the Teddy bear in 1902.

About 12" in size, EAN 355424

Sorry, sold out