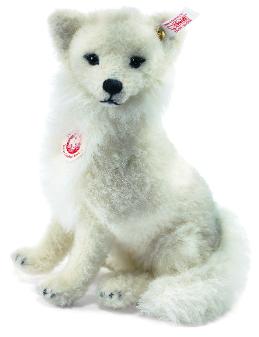 An extraordinary limited edition snow fox from Steiff.
"Like snow glimmering in the moonlight, our Xorry Snow Fox will also shine if you bring him into the sunlight.
Our airbrush artisans have applied a faint coat of silver to Xorry´s coat - which is made of finest alpaca - to give him a magical touch. This is entirely fitting for a resident of Steiff´s Enchanted Forest - where magic happens every day. Xorry also features an airbrushed face and body accents.
He´s a perfect companion for the holidays or all year round."
6 inches in size.
Sold, thanks!