Christmas Kitten "Nutmeg"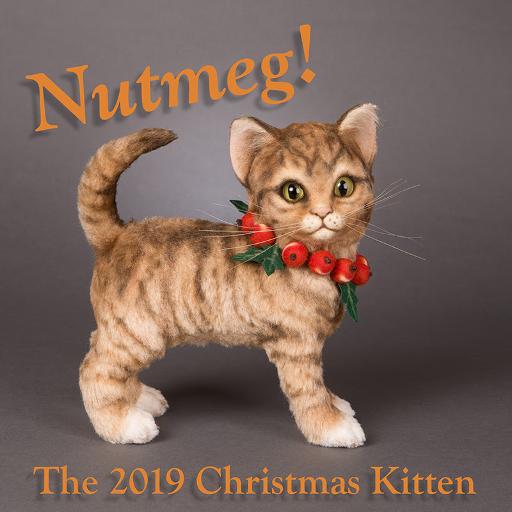 We are pleased to present "Nutmeg" - the 2019 Christmas Kitten!
Nutmeg is the fourth issue in the popular RJW "Christmas Kittens" series. Nutmeg is constructed of the finest wool/mohair plush with felt details. She is jointed at the neck with an innovative ball & socket joint for expressive posing.
This playful kitten measures approximately 7" tall. Her beautiful sculptural face features German crystal pupil eyes hand set from within the head for greater realism. Molded felt nose, inserted horse hair whiskers with longer fur inside her kitten ears complete her charming expression. In addition a wire armature in the arms and legs and molded felt foot pads add to Nutmegs' realistic appeal! Around her neck is a jaunty wreath of felt cranberries and leaves, artistically hand made and airbrushed. In addition, Nutmegs' berry merry necklace can be untied so she may be displayed year round.
Nutmeg is produced in a limited edition of only 250 pieces worldwide. Each kitten will come beautifully boxed with a signed and numbered certificate of authenticity and the forms for owner registration.
Sorry, this piece is sold out.