Christmas Mouse "Santa Claus"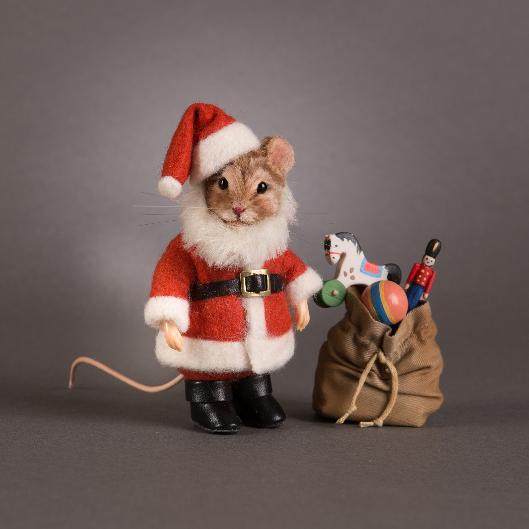 Santa Claus is the final addition to our series of Christmas Gift Bringers from around the world - re-imagined as mice.
Standing 3 1/2" tall and jointed at the neck and shoulders, this darling Santa mouse is made of mohair plush with with resin hands, hand embroidered features, German glass eyes, and a mohair beard. A fine leather tail and handsewn whiskers complete his mouse look.
Santa comes dressed in his traditional cozy red felt suit and matching hat trimmed with mini wool plush. Around his ample waist is a belt fastened with a tiny custom made brass buckle. He wears shiny black boots which no Santa should be without. Best of all is his canvas sack with classic wooden toys, produced and hand painted at the R. John Wright Studio in Bennington, Vermont.

Santa Claus is made in a worldwide limited edition of 250 numbered pieces. Each comes enclosed in a deluxe presentation box with an accompanying signed and numbered certificate of authenticity
$395